Your end goal really is to have each visitor to your website become a lead or end in a sale. The difficulty lies in understanding the different stages of the sales funnel, the different target markets and then creating a way for these target customers (at whichever step of the journey they are at) have a way in which they want to interact with you to become a lead or nurture into a sale. This is where call-to-actions (CTA) come into play.
As the name implies, this tool invites your website visitors into converting. Without it, your potential leads or sales will be left lingering with no direct action for them to take. Surprisingly, 70% of small B2B websites lack a call to action button! That's 70% of small B2B websites that have no lead generation strategy on their site.
So, let's take a look at 5 different CTA strategies that you can implement on your website to help generate leads and/or nurture sales. Remember, there is no one-size-fits-all when it comes to CTAs, so follow our tips at the end to help guide you in which CTAs you need and who they need to target.
Strategy development
Improving and optimising your digital marketing is a journey. And it's one that requires a deep understanding of your business, your customers, your goals, and a collaborative outlook to execute and continually drive business outcomes.
We believe that digital marketing should be assisting you to achieve your business goals and should have a high focus on ROI. When working with us, we'll initially work collaboratively to create a digital marketing strategy. From there, we draw out some annual digital marketing goals (which should tie into your higher level business goals) and then break these into quarterly micro-goals. You'll also get a good grasp of your digital marketing ROI – from organic, paid social, Google Ads and other channels you use. All in all, we want to help create a strong digital presence for your business and a digital marketing strategy built around your business goals. It's that simple!
Being a website and marketing agency sets us apart and gives you the best full-circle solution to your digital marketing. It means we can work on everything from content-side digital marketing to technical-side digital marketing seamlessly, easily and efficiently – giving you maximum results.
1. Newsletters Subscription & Lead Magnet CTAs
Email newsletters and other subscription-based emails are an amazing way of not only providing value to the user (and building a loyal clientele) but also to gain visibility and maintain a ubiquitous presence in your consumers' inbox.
With periodic brand exposure, an organization can educate prospects and cultivate leads – but you need them to subscribe first. Subscription call-to-action is a general-purpose tool that can be placed across your website – on the sidebars, as a pop-up or on a prominent place on a web page.
The main issue with email subscriptions is that many users are very much against entering their email, only to expect to be heavily spammed by more emails entering their inbox each day. Giving people a reason to want to subscribe is imperative.
Two great ways to help improve your email subscription offer include:
Incentivising the user by using a lead magnet e.g. "Enter your email address to receive our latest white paper on XYZ"
Appealing to 'pack mentality' e.g. "Join 20,000 people who receive home improvement ideas each fortnight."
Providing an obvious advantage for entering the email address
In both these cases, the user understands what they're getting in return for entering their email address. In the second example, they also have some form of comfort knowing that they're joining others already receiving the same thing.
In the below example from Logic Health, the incentive to enter an email address is obvious – free access to a resource library:

Lead Magnet CTAs
While mentioned above, a lead magnet CTA should also be discussed separately due to its success in generating new leads for a business. Essentially, a lead magnet is when you offer your website visitors something of considerable value in return for their contact information.
From promising a secret checklist, to a free seminar to downloadable guidelines on a certain topic, lead magnets are one of the most widely used CTAs due to their efficiency in increasing lead conversions online.
One of the most significant differences between lead magnets and subscription-based call-to-actions is that while the latter is general-purpose, lead magnets are more tailored for each specific cause.
Here is an example of a lead magnet from 28 by Sam Wood: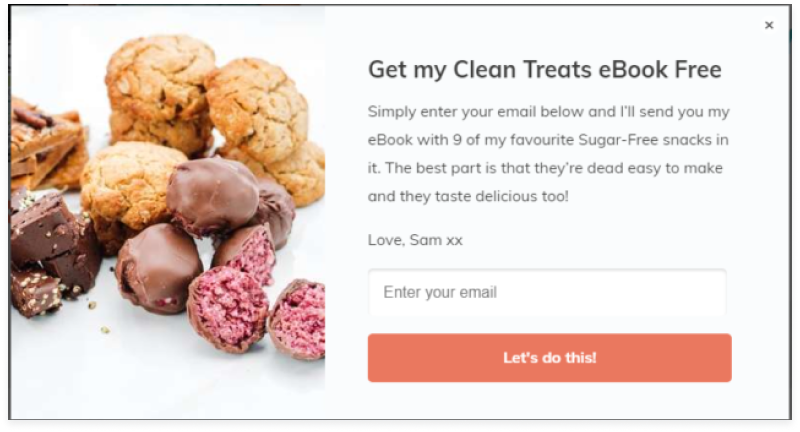 In summary, the benefits of offering a newsletter subscription include:
Ability to capture emails from interested/engaged visitors, allowing you to continue a conversation with them.
Build loyalty through regular email communication. Stay top-of-mind through regular email communications.
Allows a number of marketing promotions through email, for example, refer-a-friend, VIP sales, 24 hour online sales etc.
And remember to make the most of the emails you capture by staying in touch with your email subscribers!
A/B Testing
There's no hard and fast rule about which CTAs will work on your website and which won't. There are also heaps of ways you can optimise each individual CTA – including wording, colours, placement and more. AB testing is a process by which you can test your CTAs and also ensure that they are continuously optimised for increased conversions. You can read more about how to increase conversions through AB testing here.
Conclusion
Call to actions are the reason people convert on a website. While its easy to implement CTAs through your website, thought should first be put into what actions you want prospective customers to do on your website, what you can offer them (if anything) in exchange for contact details, and which CTAs will be most suitable given your online goals and offerings.
If you'd like to find out more about how CTAs work and which might be most suitable for you, contact us today.