How often do you go to the second page of results when you're searching, much less click on a result? We're guessing you can't remember. 
As searchers, we are becoming more savvy to how Google works. We are confident that Google is becoming even better at understanding what it is we want to know when we have a search query, and that they will show us relevant results. We also know that Google prioritises credible sources and the pages that Google thinks will best answer our query. So, why leave page 1?
Searchers Only Engage With Page 1
Studies have shown that searchers predominantly stay on page 1, with 75% of searchers never scrolling beyond page 1 and onto page 2. You almost need to look no further than that to understand the benefits of a page 1 ranking on Google.
To explore this further though, we can look at how searches engage with listings on page 1 versus page 2. 
A study of 5 million search results found that the click-through rate with listings on results pages drop off sharply after page 1, with only 0.78% of searchers clicking on a page 2 result!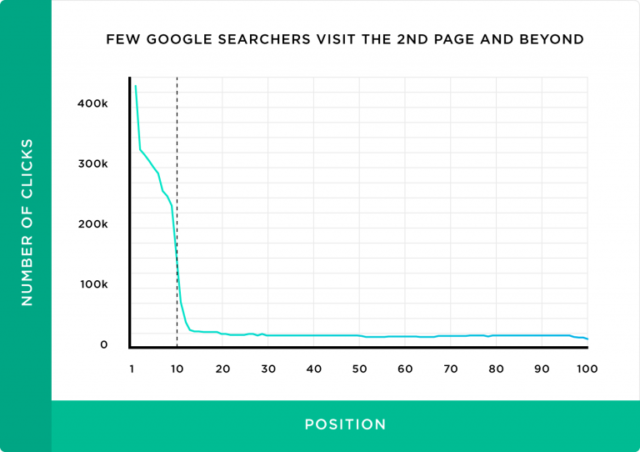 Receive More Clicks With a Higher Position on Page 1
Now that we have established that searchers are significantly less likely to click-through to a page on page 2, what is the benefit to being in position 1 versus a lower position on page 1? If both listings have the visibility of page 1, is there a significant advantage to the first listings?
The short answer is yes!
Studies have shown that the first result on page 1 will get the majority of clicks, with the average #1 result on Google having an average click-through rate of 32%! This is consistent with recent data on searches in Australia, with the below chart showing the average click-through rate by the average position in results in April 2020 for desktop and mobile searches.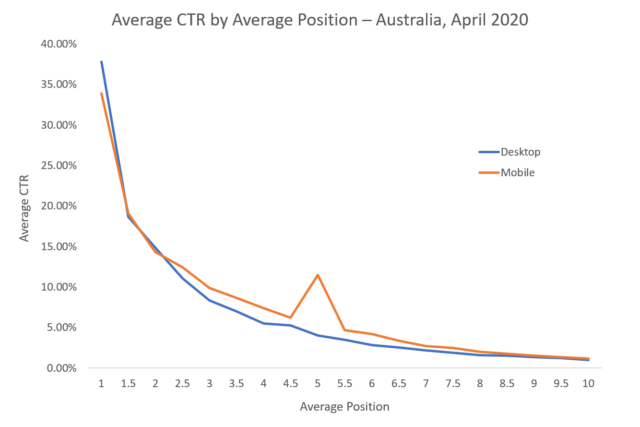 Moving Up To A Google Page 1 Ranking – The Benefits We Have Seen
Throughout 2019, Tilley Soaps' product category page for their range of scented reed diffusers saw volatile rankings in search for "reed diffuser" – from low page 4 to the middle of page 1. This became more consistent in late 2019 and early 2020, but was hovering between low on page 1 and 2. 
Knowing the power of a page 1 ranking, we identified the opportunity to create a more consistent presence on page 1 for this page, and planned some on-page SEO and content marketing to make this happen. Our work included the writing of additional content for the page and implementing structured data.
The orange line in the chart below shows how a page that has seen volatile rankings over the last year is now seeing a more consistent page 1 ranking. We also see that the page received very few clicks whilst on page 2, but a regular ranking on the first page has contributed to an increase in clicks (blue line).

Having your web page rank higher can also contribute to an increase in page conversions. April and May, which enjoyed the page 1 ranking, contributed to 39% of the revenue and 42% of the transactions generated by organic search visitors landing on this page over the last 12 months.
This highlights how search engine optimisation work, which is planned to have your web pagesrank on the first page, can improve the performance of your organic traffic and contribute to your bottom line!
How Can I Get Google Page 1 Rankings For My Site?
If you want to improve your organic results and boost your web page to a page 1 ranking on Google, what should you be looking to do?
Contact the Digital Marketing specialists at Arcadian Digital. We will leverage our own SEO tools and will provide you with tailored recommendations, based on your current organic results and competitors in your industry. We will be able to provide you with content marketing and search engine optimisation solutions that will push your listings to page 1.
And, we pay attention to how these improvements will ultimately help you convert your organic traffic. We will also provide suggestions around SEO titles and meta descriptions – designed to improve your click-through rate once you are on page 1, and user experience – so once people get to your site, they will complete the actions you want them to perform.