Organic click-through rate (CTR) studies demonstrate the sharp drop-off in clicks after the top 5 listings (particularly the top 3). If your pages aren't ranking on page 1 for key search terms, you can expect minimal organic traffic from Google.
Paid Google ads (PPC ads) are often used to drive traffic to those pages, whilst you work to improve the organic results.
But what other benefits can we see by combining these online marketing efforts?
Benefits of SEO and Ads Working Together
The three main benefits we see in combining SEO and Google Ads are:
Increased visibility
Testing keyword performance
Leveraging ads keyword data for organic SEO strategies
As mentioned, paid ads can be used to drive traffic to pages whilst organic rankings improve. This works due to the prominent placements Google Ads receive in search results pages. The prime real estate which ads take-up is often the argument for why running ads can be so powerful.
Running a Google Ads campaign allows you to test the performance of similar keywords. By adding similar terms to an ad group's keywords, you will be able to directly compare their performance. For example, a term may prove to lead to a superior click-through rate. But also, one may demonstrate greater search intent with a superior conversion rate.
The data generated by a Google Ads campaign can also provide insights you weren't expecting or investigating. Over time, you might see a pattern emerging in the search terms, demonstrating a shift in search behaviour. This data may represent an organic search opportunity for your website's content. A couple of examples:
If you identify a high-volume search term
If you identify a search term with a significant CTR
For both of these examples, does your site have a page optimised for this keyword? If not, create one. And if you do, how well is it ranking organically?
If you can improve your organic ranking for this search term, you could potentially acquire some of this engaged audience organically. That's without having to target them with paid ads.
We have recently demonstrated how this opportunity was identified, implemented, and has seen results.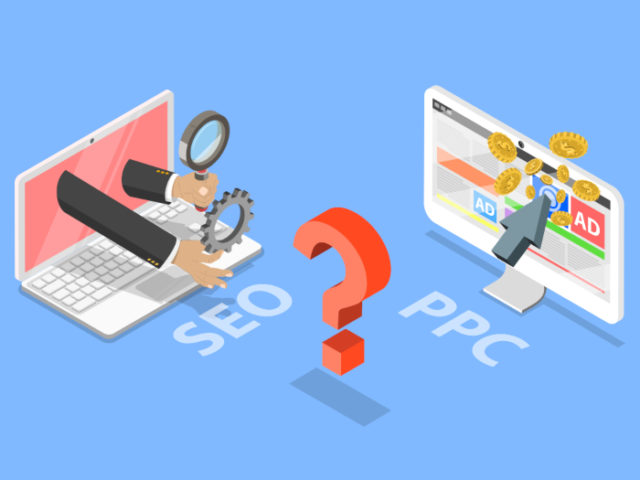 Case Study
Identified the Opportunities on Google Ads
We complete monthly SEO work and Google Ads management for Melbourne-based criminal law firm, Slades & Parsons. Through the regular ads management, we identified high engagement with keywords relating to 'first-time drug driving offences' and 'legal aid'.
These search terms exhibited high click-through rates and, when added to the accounts keywords, were given very high-quality scores by Google Ads. 10/10 quality scores were notable because they factor in expected click-throughs and on-page experience.
Keyword research demonstrated that whilst search volume was relatively low, there was a low level of competition for these terms.
Combining the proven high engagement with the search terms and the low base of competition, we identified that this was an opportunity to organically reach an engaged audience relatively quickly.
Created New Pages on the Site to Target the Keywords
We then looked to create new landing pages that would specifically target the aforementioned keywords. This opportunity was shared with our client and agreed to. The next step was to create the content for these new pages.
For each topic, we identified primary and secondary keywords to optimise the pages for, and drafted landing pages on the topics.
We leveraged our SEO analysis to ensure the content was aligned with the features of the pages currently ranking well for the keywords. This factored in:
Content optimisation (keyword coverage and semantic LSI keywords),
Including appropriate links to key resources,
Creating enticing SEO titles and meta descriptions,
Incorporating readability factors
The pages, once approved by our client, were built and published in early 2020.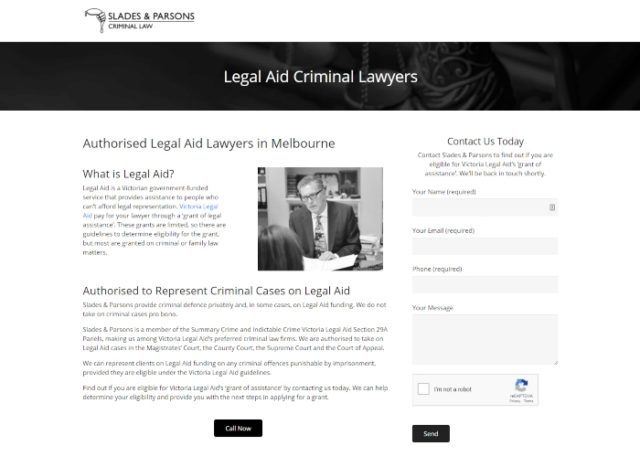 Results From SEO and Ads Working Together
Since March 1, 2020, the First Offence Drug Driving and Legal Aid pages have received approximately 13k and 9k impressions respectively. This confirmed the relatively low base of keyword search volume we expected from individual search terms. That being said, the lack of competition for these search terms was also confirmed. We have seen a steady improvement in page rankings throughout the year.
In the last three months, notable rankings for the First Offence Drug Driving page include page 1 rankings on average for:
"first drug driving offence"
"what are the penalties for a first offence of drug driving"
"first offence drug driving"
"first time drug driving offence"
In the last three months, notable rankings for the Legal Aid page include page 1 rankings on average for:
"criminal lawyers Melbourne legal aid"
"legal aid criminal lawyers"
"legal aid lawyers Melbourne"
These pages are also proving the high intent and engagement of the audience we observed in the ads data. Since March 1:
The First Offence Drug Driving page has a 2.14% conversion rate from organic search visitors
The Legal Aid page's organic search visitors have converted at a rate of 12.96%.
Many of the visitors to the First Offence Drug Driving page have arrived via search queries not specific to 'first offences'. Hence why the conversion rate has been lower than the Legal Aid page.
The results we have seen have been great for Slades & Parsons as 'conversions' are key contact goals – form submissions, phone number clicks etc.
Not long after these pages were published, the impacts of Covid-19 began to hit small business, service industries and advertising efforts. We paused several ad campaigns, including the campaigns that featured these keywords. Due to our joined efforts with SEO and PPC, we were able to pause ad campaigns but ultimately still see lead generation. This proves the importance of putting effort into both paid traffic AND organic reach.
These optimised pages, leveraging data from the Google Ads campaigns, attracted organic leads during a period in which we could not draw on paid traffic. We expect to see these pages continuing to bring in leads in the short-, medium-, and long-term.
For more information on how you can combine your organic and paid search efforts and have SEO and ads working together, contact us today.